future caps learn to play presented by world wide technology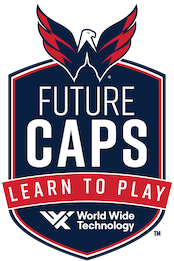 The Future Caps Learn to Play program presented by World Wide Technology provides a unique opportunity for families to join the hockey community and for participants to develop fundamental skills to help them succeed both on and off the ice. Created jointly by the National Hockey League Players' Association (NHLPA) and the National Hockey League (NHL). Learn to Play's goal is to inspire youth and welcome more families into the hockey community.
2023-24 open registrations

Please note that additional rinks/programs will be added as we receive schedules from rinks throughout the summer & fall!
All players must have competent skating skills before registering for the Future Caps LTP program
Frequently Asked Questions
Everything you need to know about the Future Caps!
The National Hockey League (NHL) and the National Hockey League Players' Association (NHLPA), in partnership with USA Hockey, have identified the need for a unified growth strategy as a priority for the sport of hockey. The Learn to Play initiative aims to be the gold standard for youth hockey programs with the goal of inspiring more families to join the hockey community. Learn to Play challenges the way youth hockey is offered by providing first-time participants free head-to-toe equipment, eight (8) classes of age-appropriate on-ice instruction, and certified coaching in a fun and safe atmosphere.
The program provides FREE head-to-toe equipment for your child to keep as they continue exploring youth hockey. However, there is a participation fee associated with the program which offsets ice and coaching expenses. The participation fee ranges from $249.00 - $349.00 and varies by facility.
The Future Caps Learn to Play program is offered to new, first-time participants (boys and girls), between the ages of five (5) to nine (9). Participants must not have been previously registered with USA Hockey or previously participated in a hockey league/program (house/rec league, learn to play, mini-mites, camps, etc.). Participants must have skating competency and are encouraged to complete a Learn to Skate class through their local rink prior to enrolling in Future Caps.
Must be between 5-9 years-old as of the program's first class 
Learn to Skate 1 
* If the Washington Capitals become aware that a registered child has previous hockey league/program experience, the child will be removed from the Future Caps program and the guardians will be charged the full retail price for the equipment.
It is strongly recommended that participants complete a Learn to Skate class through their local rink prior to enrolling in Future Caps. Many rinks in DC, Maryland, and Virginia have regular ice skating sessions which are open to the public and are a great way to gain experience and confidence on the ice. For those looking to register for a Learn to Skate program, please contact your local rink. For a full list of Capitals Rink Partners, visit https://www.nhl.com/capitals/info/rink-partners.
The Future Caps Learn to Play program is offered at various local rinks. For a list of participating rinks and Future Caps sessions, please CLICK HERE.
Visit www.learntoplay.nhl.com/capitals and select the rink and session you would like to register for. Upon registration, you will receive a confirmation e-mail with next steps. Please check your SPAM or PROMOTIONS folder as this e-mail may not arrive straight to your inbox.
We are sorry to hear that! We will consider refunds on a case-by-case basis. There are no refunds if a player has received their equipment and/or if the class has already begun. Please e-mail youthhockey@washcaps.com with any questions.
We have waitlists for all Future Caps programs. If you are interested in a session that is full, please register for the waitlist. We will do our best to contact participants on the waitlist as new spots open up.
If you successfully registered your children for the same session, then yes. All participants will be on the ice at the same time. Coaches may split the class into groups for drills throughout the program.
No! During your session, you will get an e-mail with your USA Hockey number, so do not register your child yourself for USA Hockey. USA Hockey is the governing body of ice hockey in the United States.
New hockey players and parents might need some extra time to get your child dressed in their equipment, so we recommend arriving 30 minutes before the class starts.
IF YOU ARE REGISTERED FOR A PROGAM PLEASE CONTACT YOUR RINK FOR FINAL INSTRUCTIONS ON ARRIVAL, RINK ENTRY AND ADDITIONAL QUESTIONS.
Please make sure to let your Coach know that you will not be attending a certain class. There no make up classes.
Upon registration, each participant will receive complimentary head-to-toe equipment from CCM and/or Bauer. 
When ordering equipment online, sizing guides and video tutorials will be provided as a reference for help if needed.
The equipment provided includes: a helmet with cage, shoulder pads, elbow pads, hockey pants, shin guards, gloves, hockey skates, a hockey stick, hockey tape, jersey, socks, and an equipment bag.
Participants will be required to purchase their own neck guard, mouth guard, and athletic supporter (jock/jill). All equipment is required to be worn during on-ice sessions. Participants keep the equipment upon graduating from the Future Caps program.
Pure Hockey has two locations in the area: 
 Sterling, VA
Rockville, MD
In-person fitting sessions are offered based on the program's timeframe
*EQUIPMENT FITTING INFORMATION LINKS WILL BE IN THE FUTURE CAPS REGISTRATION CONFIRMATION EMAIL*
The Washington Capitals encourage all Future Caps participants to continue playing hockey! Talk to your Coach or Rink Director for the best next step program after Future Caps graduation.
No. The Future Caps Learn to Play program is offered only to new, first-time participants. Sessions are not progressive and participants may only register for one session (Fall, Winter, Spring, or Summer).
Any questions? Contact us at: